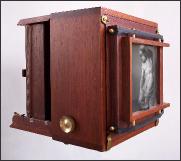 work with it once again in a response to the ever-increasing drive towards technology, corporate marketing and loss of direct control over the material image. Today there is a thriving community of artists throughout the world that have embraced pinhole and other non-lens based photography as well as a resurgence in 'primitive photography' using early processes and craft-made or antique equipment.
Many early photographs were made using pinholes and in the late nineteenth century photographers used this method to create photographs that emulated the atmosphere of paintings. A Pictorialist movement using pinhole thrived at this time until developments in the mass production of cameras and the New realist school of photography took ascendancy. After the 1920's pinhole passed into obscurity until the 1960's when practitioners started to












In pinhole photography light passes through a tiny hole instead of the lens in a normal camera. The image is formed by diffraction rather than refraction through glass. Pinhole photographs are softer than pictures taken with a lens and are in focus from very near the camera through to infinity. Images remain absolutely rectilinear even at wide angles so that there is no lens distortion.